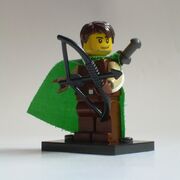 Alexander Vandangant
(alias Wedge09) elven archer of Avalonia.
Background
Edit
While the other Elves prefers to stay hidden in the deep of the forest, his thirst for knowledge leads Alexander, going against the dictates of his race, to abandon the forests and begin a journey to discover the world outside the Enchanted Forests. After touching, during his travels, various parts of the continent, including the sultry regions of the south and the cold northern regions, and have come in contact with different cultures, Alexander found in the Western Region a place to which he feels he can fight.
Alexander swears allegiance to Avalonia, he swears to defend the land and all the people from anyone who will try to hurt them.''
Alexander, like all elves, is a great archer and uses his bow, always kept in perfect condition, as the main weapon while, when it comes to a close clash, uses a sword of elven steel.
Past and presence residents
Edit
Hidden Garden, Avalonia
| Type | Name | Location | Photo |
| --- | --- | --- | --- |
| Free build | Alexander Vandangant Adventures - part 3, Encounter | Hidden Garden | EB Topic |
| | | | |
| | | | |
| | | | |
| | | | |
Figure ComponentsEdit
Description

BL Part #

Head

Yellow Minifig, Head Male Smirk, Pupils, Stubble Beard and Moustache and Sideburns Pattern / Dark Brown Minifig, Headgear Hair Short, Tousled with Side Part

3626bpx301 / 62810
Torso
Brown Torso SW Loose Shirt, Black Belt and Silver Buckle Pattern (Naboo)
973px89c01
Arms
Tan Arms / Brown Hands
973px89c01

Legs

Brown Hips and Legs

970c00
Ad blocker interference detected!
Wikia is a free-to-use site that makes money from advertising. We have a modified experience for viewers using ad blockers

Wikia is not accessible if you've made further modifications. Remove the custom ad blocker rule(s) and the page will load as expected.